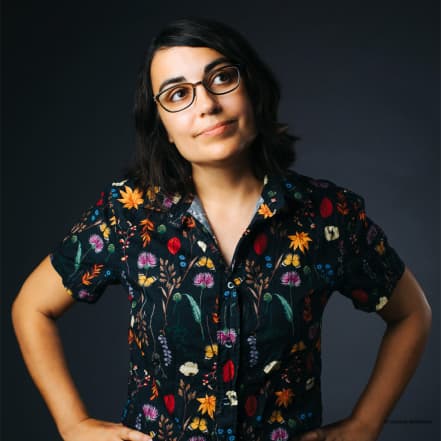 About Rosemary
Rosemary is an author, illustrator, and speaker whose work connects people with the natural world.
She's written and drawn for The New York Times, Audubon, the PBS show Elinor Wonders Why, The Old Farmer's Almanac for Kids, Ranger Rick, and more. She creates acclaimed science books for kids and adults and makes the nature comic Bird and Moon, which won the National Cartoonists Society's award for Best Online Short Form Comic and was the subject of an award-winning museum exhibit. Her climate change comics were exhibited at AAAS headquarters and the Peabody Essex Museum. She gives engaging talks and workshops to groups of all ages.

Rosemary holds a Masters of Science from the Field Naturalist Program. She also served as a judge for a Festival of Bad Ad-hoc Hypotheses, judged a bird tattoo contest, and co-founded a week celebrating invertebrate butts.

She is represented by Seth Fishman. Her favorite glacial landform is the esker.
Photo by Adrianne Mathiowetz.